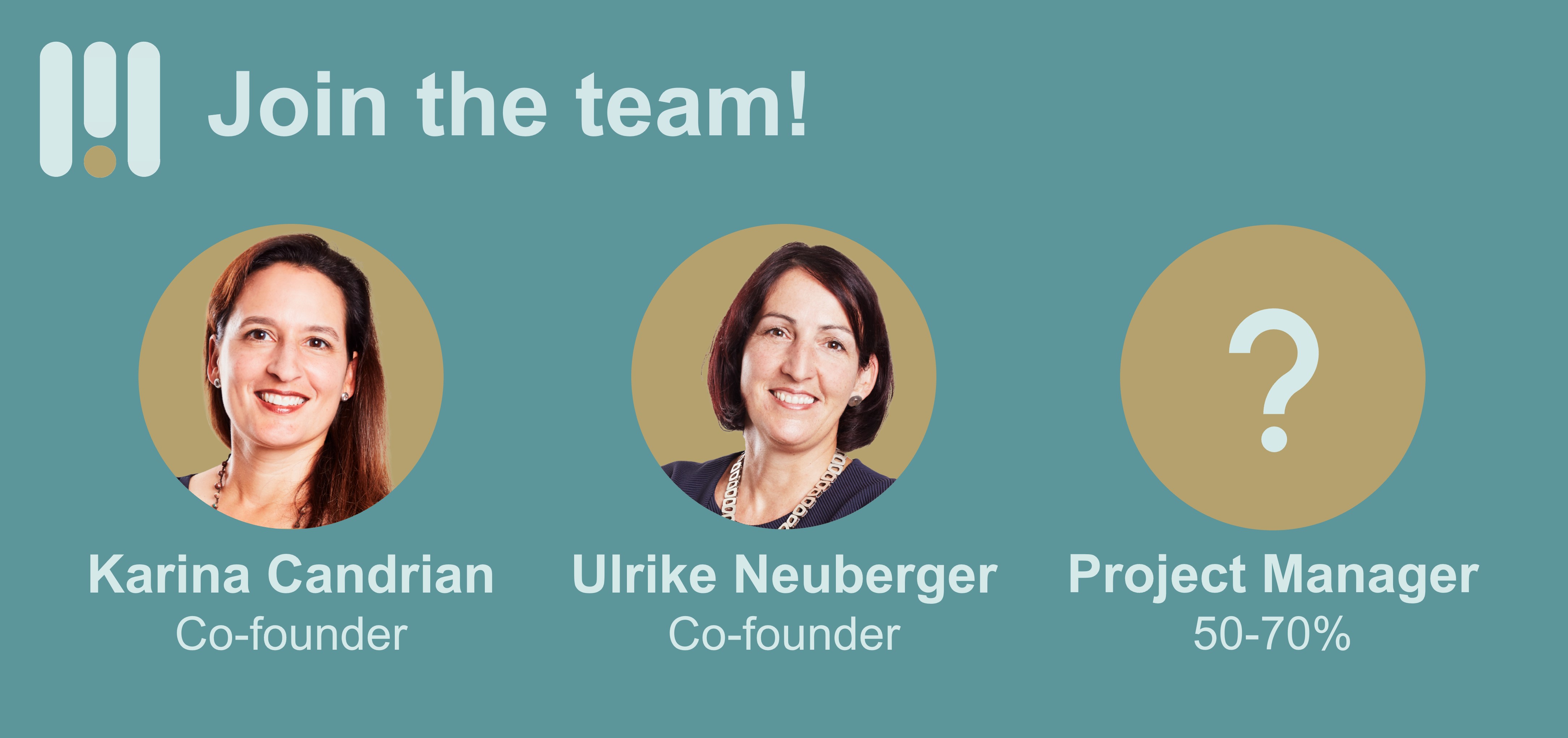 MEDICALBOARD is a bou­tique health­care com­pa­ny with a pas­sion for projects improv­ing patient out­come. We help our cus­tomers to explore new busi­ness areas and devel­op suc­cess­ful strate­gies through insights analy­sis and busi­ness coach­ing. At MEDICALBOARD we are not hap­py with «just» giv­ing advice but are strong in imple­men­ta­tion and in mak­ing projects hap­pen. We pro­vide health­care blue­prints and inter­im support.
Togeth­er with our sis­ter com­pa­nies Effec­tum Med­ical and Effec­tum CH-REP we pro­vide a ser­vice port­fo­lio with a unique MedTech access point in Switzer­land. Our cus­tomers can ben­e­fit from our exper­tise along the entire val­ue chain.
To sup­port us on cus­tomer projects we are now look­ing for a
Project Man­ag­er (50–70%)
to enhance our team.
Are you a free­lancer or a part-timer look­ing for an oppor­tu­ni­ty to prove your struc­tured way of think­ing and expand your project man­age­ment skills? Then MEDICALBOARD is the right place for you!
We are a small but moti­vat­ed team pro­vid­ing an open and friend­ly work­ing envi­ron­ment where you are encour­aged to bring ideas to sup­port and be part of the growth jour­ney of MEDICALBOARD and our sis­ter companies.
What you will do
Plan­ning, track­ing, and imple­men­ta­tion of cus­tomer projects to suc­cess­ful completion
Help define project scope, goals, deliv­er­ables, and timelines
Cre­ate and man­age project plans
Mon­i­tor­ing and report­ing on project progress, includ­ing budget
Orga­niz­ing inter­nal and exter­nal meet­ings and con­fer­ence calls, prepar­ing the relat­ed doc­u­ments and fol­low­ing up on action plans
Col­lect­ing and ade­quate­ly prepar­ing of infor­ma­tion for inter­nal and exter­nal use (e.g. descrip­tion of busi­ness process­es, cre­at­ing tem­plates and checklists)
Han­dle con­fi­den­tial infor­ma­tion and main­tain the secu­ri­ty of mul­ti­ple records and files
Updat­ing of web­site and man­ag­ing LinkedIn account
Pro­vide gen­er­al oper­a­tional sup­port to the partners.

Your skills and qualifications
Edu­ca­tion in busi­ness admin­is­tra­tion, Eco­nom­ics or Health Eco­nom­ics or a com­pa­ra­ble degree pro­gramme (Uni­ver­si­ty or Uni­ver­si­ty of Applied Sciences)
Gen­er­al inter­est in health­care and MedTech top­ics would be use­ful as those are the indus­tries where most of our cus­tomers operate
Rel­e­vant work expe­ri­ence ide­al­ly from an inter­na­tion­al environment
Strong orga­ni­za­tion­al and time-man­age­ment skills; with abil­i­ty to mul­ti­task, pri­or­i­tize, and meet dead­lines as needed
A keen eye for detail with the abil­i­ty to pro­duce high qual­i­ty results also in stress­ful situations
Abil­i­ty to col­lab­o­rate suc­cess­ful­ly with var­i­ous stake­hold­ers on dif­fer­ent hier­ar­chi­cal lev­els. Our clients range from start-ups to multi­na­tion­al businesses.
High lev­el of con­fi­den­tial­i­ty, respon­si­bil­i­ty, and reliability
Open mind­ed, goal-ori­ent­ed, and flex­i­ble team play­er with excel­lent writ­ten and ver­bal com­mu­ni­ca­tion skills in Eng­lish and German
Affin­i­ty for and inter­est in dig­i­tal mar­ket­ing top­ics (Web­sites, Social Media etc.).
Strong work­ing knowl­edge of Microsoft appli­ca­tions (Word, Excel, Pow­er­Point etc.)

Loca­tion
Although most of the work is done remote­ly you will from time to time be required to attend client meet­ings in their offices (most­ly Basel). As a team we meet reg­u­lar­ly in Olten in the offices of our sis­ter com­pa­ny Effec­tum Medical.
Appli­cants need to be based in Switzerland

Inter­est­ed? Then please reach out to Anne-Marie Joller who is look­ing for­ward to receiv­ing your com­plete appli­ca­tion at anne-marie.joller(at)medicalboard.ch
Please note that we only accept direct appli­ca­tions (no recruit­ment com­pa­nies) and only com­plete appli­ca­tions will be con­sid­ered and processed.
All posts
Case Studies
Events
Insights
News
|
"100 fürs Baselbiet" is an initiative to support innovation and regional development in Baselland. The initiative promotes access to financial ...
Read more

→