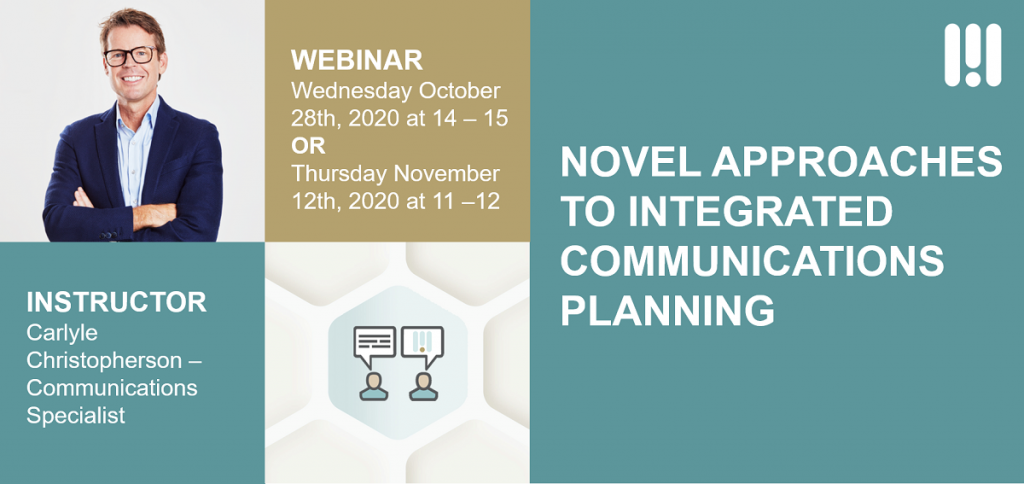 Do you find decid­ing on the right com­mu­ni­ca­tion mix a chal­lenge par­tic­u­lar­ly with­in cross func­tion­al envi­ron­ments or with prod­ucts at dif­fer­ent stages of their life­cy­cle? If the answer is a 'yes', this webi­nar is for you. The course will pro­vide par­tic­i­pants with a frame­work and a num­ber of work­ing prin­ci­ples to iden­ti­fy and assist in lever­ag­ing and / or expand­ing brand assets and attrib­ut­es to opti­mize the inte­grat­ed com­mu­ni­ca­tions plan.
---
Time:
This one hour webi­nar will be held on the fol­low­ing dates:
Wednes­day Octo­ber 28th, 2020 at 14:00 – 15:00
Thurs­day Novem­ber 12th, 2020 at 11:00 – 12:00
---
Loca­tion:
Online Webi­nar
---
Price:
This webi­nar is free of charge
---
Instruc­tor:
Car­lyle Christo­pher­son is a hands on com­mu­ni­ca­tions expert with in-depth knowl­edge and expe­ri­ence in key glob­al and inter­na­tion­al mar­kets. He has over 15 years expe­ri­ence in inte­grat­ed com­mu­ni­ca­tions rang­ing from strat­e­gy devel­op­ment to tac­ti­cal delivery,
Car­lyle is a reg­is­tered nurse and ser­i­al entre­pre­neur with an MBA from the Busi­ness School of Lau­sanne. He has devel­oped his own med­ical mar­ket­ing con­sult­ing in 2003 which was inte­grat­ed into a glob­al med­ical com­mu­ni­ca­tions agency, 8 years lat­er built up and sold a glob­al pre­mi­um cycling appar­el brand and last but not least has just launched a new busi­ness adven­ture away from sci­ence and med­ical com­mu­ni­ca­tions that uti­lizes the ben­e­fits of Ion­ic Pure Water for res­i­den­tial and com­mer­cial Glass Cleaning.
---
Reg­is­tra­tion:
Please send us an email to workshops(a)medicalboard.ch to reg­is­ter. Kind­ly indi­cate, for which of the two webi­nar dates you would like to register.
---
For more infor­ma­tion please view the webi­nar fact­sheet.
Please note that space is limited.
All posts
Case Studies
Events
Insights
News
|
We are happy to welcome and have Chaitra onboard. Chaitra has an MBA degree and 12+ years of diverse international ...
Read more

→