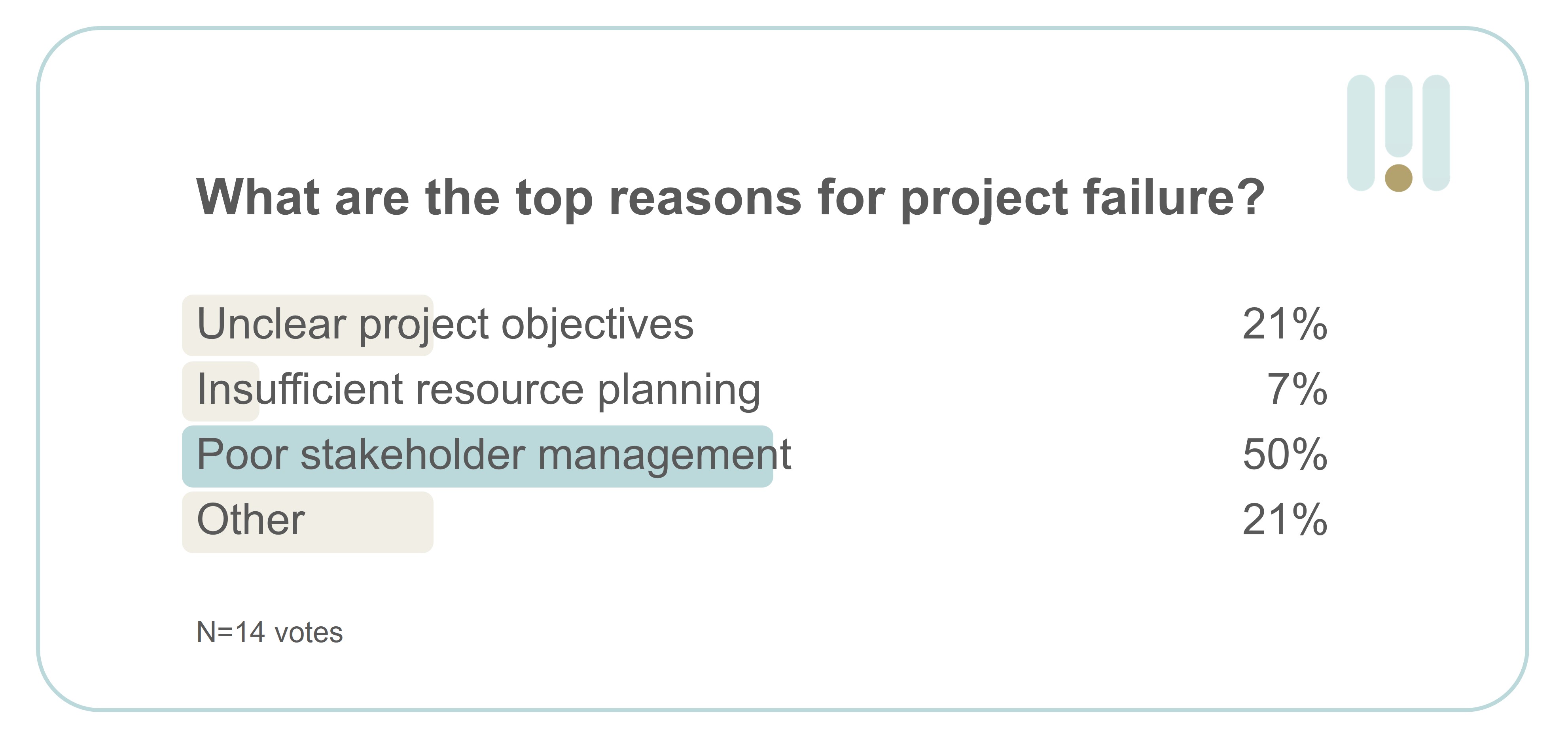 Although process­es are being defined, new project method­olo­gies are avail­able and great dig­i­tal tools are being imple­ment­ed, it seems that stake­hold­er man­age­ment (e.g. poor align­ment, wrong understanding/interpretation, dis­crep­an­cy in expec­ta­tions etc.) still remains a chal­lenge. A recent LinkedIn poll revealed that 50% believe that poor stake­hold­er man­age­ment is a key fac­tor for project failure.
So how do we over­come this and how do we bet­ter man­age our stake­hold­ers? Here are three tips from our side:
1 — STAKEHOLDER MAPPING
Often seen as an unnec­es­sary step, it helps project lead­ers and the whole team to under­stand who the stake­hold­ers are, their inter­ests, and their influ­ence. This helps you to define an effi­cient com­mu­ni­ca­tion plan. Which infor­ma­tion is impor­tant to whom, at which time and in which format?
2 — TALK
Oral con­ver­sa­tions, if applied cor­rect­ly, are not a loss of time, but an impor­tant invest­ment. This has been con­firmed to us by most of the stake­hold­ers in the major­i­ty of our projects. They high­ly appre­ci­ate the per­son­al con­ver­sa­tions as they feel heard! Com­mu­ni­ca­tion should be a bi-lat­er­al process, to gain insights and trans­fer infor­ma­tion. Or as Jeanne Liedt­ka, design think­ing guru, puts it:
"Talk is the tech­nol­o­gy of leadership"
3 — ENGAGE
Engage­ment means par­tic­i­pa­tion. Align­ment usu­al­ly requires going through sev­er­al review cir­cles. Although it's an invest­ment of both time and ener­gy, it's worth it. Empow­er your team to define the how and fre­quent­ly invite the out­er cir­cle to pro­vide feed­back and share their e.g. user or busi­ness perspective.
The larg­er your project, the big­ger the like­li­hood of fail­ure. A larg­er project also usu­al­ly mean high­er costs, increas­ing the impact of fail­ure. There­fore, con­sid­er stake­hold­er man­age­ment as an impor­tant project lead­er­ship task. Be sure to iden­ti­fy and mit­i­gate also stake­hold­er risks ear­ly on and con­tin­u­ous­ly through­out your project.
All posts
Case Studies
Events
Insights
News
|
We are happy to welcome and have Chaitra onboard. Chaitra has an MBA degree and 12+ years of diverse international ...
Read more

→